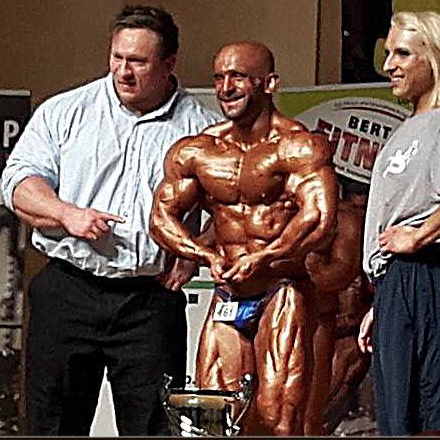 My name is Michael Schneider. I was born on 07.11.1988 in Austria!
I'm 157cm tall or small! 😉
I'm a husband and father of a 2 year old son. The balancing act between being the best dad I can possible be and my bodybuilding passion is an ambitious challange for me but I also draw a lot of mental strengh from it.
I started with Bodyuilding based training at about 14 years old and imediately fell in love with it.
My first Bodybuilding show I entered at the age of 18 which was the IFBB Ausrian championships and I was hooked. From that day on I ate, slept and breathed bodybuilding.
I competed over several seasons through the years (2007, 2010, 2011, 2012, 2014, 2015 and 2017).
My biggest accomplishments were winning the overall Austrian and Slovakian championships in 2017 and placing 2. in the NABBA worlds in Russia the same year. At the Austrian championships Jordan and Corinne were handing me the overall trophy. That day I'll never forget for the rest of my life!
2018 I was searching for a new challange. I got a little inspired by Corinne and decided to compete in a powerlifting competition. I won my class at the Austrian chamionships. The same year I took 3. in my weight class up to 82,5kg at the world chamionships in Slovakia. I squatted 240kg, benched 160kg and deadlifted 255kg which gave my a total of 655kg and all Austrian records in my weight class!
I'm running a gym here in Austria and a membership site with my buddy Kevin Stütz. I'm also very fortunate to run the distribution for Trained by JP nutrition here in Austria! I'm very proud to be part of this team!